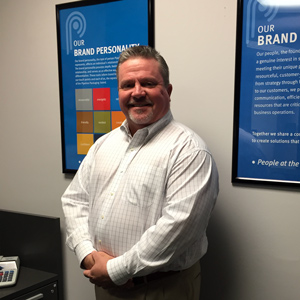 Title
Regional Sales Manager in Houston
What is your role at Pipeline?
Manage a team of 9 OSR's throughout Texas and Louisiana
When did you start (Month/Year) at Pipeline?
October 2015
Family?
Wife of 20 years and fraternal twin 12-year old boys
Pets?
Rescue dog named Snowy and a hamster named Churro
What do you enjoy about living in your state/area?
Great neighbors, family and friends
Hobbies?
Golf, crosswords, cooking
Pet peeves?
People driving slow in the fast lane, poor attitude by those that work for tips
Who has been the greatest inspiration in your life?
My grandfather
Read any good books?
Extreme Ownership, all of the John Grisham books
Favorite movie?
Tombstone
Favorite color?
Blue
Favorite food? 
Hamburgers
What is something that you think no one knows about you?
I love old school rap music
What would you want other people to know about you?
Extreme competitor, family man, work and play hard
What 1 word best describes you?
Jovial
What do you enjoy most about working at Pipeline?
The culture and the feeling of being an owner