Partner with a Sustainable Packaging Supplier
The experts at Pipeline Packaging are constantly looking for ways to source packaging that is more eco-friendly while also controlling costs. And with their network of 400 packaging suppliers around the world, they have access to the most innovative products on the market. But they don't stop there. Legislation in certain states significantly impacts how businesses package and ship products across state lines. (California's Proposition 65 is one example of how businesses inside and out of the state are affected by the need for sustainable packaging.). The service team at Pipeline Packaging can assist by making sure all your packaging fits compliance specifications.
Here are 5 ways Pipeline Packaging helps customers go "green" and why partnering with a sustainable packaging supplier is wise.
Reduce virgin material content in favor of post-consumer resins (PCR).
You can be proactive in your sustainability efforts by choosing plastic packaging with a core layer (up to 60% of total thickness) of post-consumer resin, without sacrificing quality or strength.
Decrease fuel consumption and material waste by reducing gram weight.
The engineers and package designers at Pipeline Packaging work together with their customers to find weight-reducing solutions that conserves fuel and saves money. Even minimal weight reductions add up when you transport thousands of units.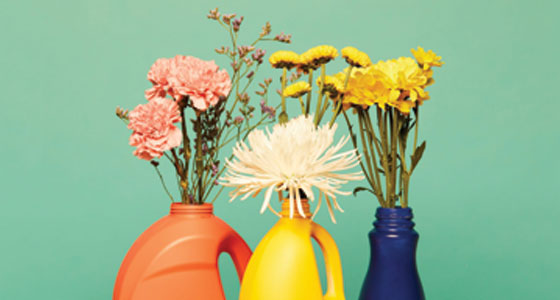 Consider:
- Using lightweight closures that are often easier to open.
- Modifying the concentration of products with high water content to reduce package size and weight.
- Choosing package shapes that maximize shipping efficiency.
Unless you're working with a sustainable packaging supplier, finding these options becomes significantly more difficult.
Minimize product damage and reduce waste by switching from metal to recycled plastic paint cans.
As a sustainable packaging supplier, Pipeline Packaging sources thousands of resin paint cans made from recycled plastics. Unlike metal cans, they are resistant to denting, and of course, will never rust. Resin paint cans are typically lighter than metal which typically saves on freight costs.
Use packaging/palletizing designs that maximize the number of containers per shipment.
Through smart package design and correct configuration of pallet space, companies can save thousands of dollars on freight costs. Our package designers, engineers and assembly team can assist with container modification and freight optimization to help minimize wasteful (and expensive) space.
Save money and gain efficiency by opting for reconditioned drums and totes over new.
One of the major benefits of using reconditioned steel and poly drums or totes is the potential cost savings. Even after the reconditioning process, these containers can offer a price savings of roughly 30 to 40 percent as compared to brand new containers. Reconditioned drums and totes also allow companies to complete a closed-loop system. Essentially, you invest in new drums or totes and recondition them after their first use. This means that you not only reuse these products repeatedly to help the environment, but also create a regular loop of dependable inventory, allowing you to have a steady supply of package products in your control instead of regularly needing new drums or totes that might be subject to container shortages or other availability issues.
These are just a few of the many ways your friendly sustainable packaging supplier – Pipeline Packaging – can help your company be more eco-friendly. Call us to find out more!