Closing Tool Repair
and Loan Program
When your closing tool is ready to be repaired, Pipeline Packaging is here to loan you a replacement tool while we work on maintaining yours. Keep your tools 49 CFR compliant with our repair and loan services!
Wear and tear will take its toll on any tool. What is your company's plan when a closing tool needs to be repaired?
Ask Pipeline Packaging to evaluate your closing tools. If a repair is required, send it to us. We can even loan a replacement to your packaging department while we work on yours.
Pipeline can provide a wide variety of options for your closing tool. Please let us know your preferences so we can best assist you.
Proper UN Pail Crimping

A preferred pail crimp sees the flowed-in gasket fully compressed because the cover is completely tucked when the angle is less than 90°.
An acceptable pail crimp has a slightly less compression as the cover's tuck is at (or a little less than) 90°.
Unacceptable pail crimps have a closing angle greater than 90° resulting in a flowed-in gasket that is not fully compressed.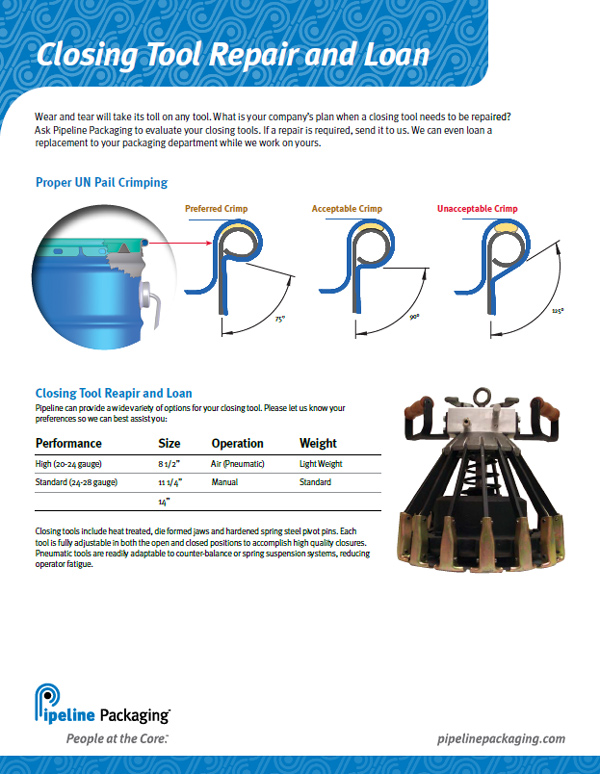 Closing Tool Repair and Loan
Closing tools include heat treated, die formed jaws and hardened spring steel pivot pins. Each tool is fully adjustable in both the open and closed positions to accomplish high quality closures. Pneumatic tools are readily adaptable to counter-balance or spring suspension systems, reducing operator fatigue.
Contact your Pipeline Packaging today to learn more about this program or if you need to have your closing tool(s) evaluated.