Industrial Chemical Containers:
Chemical Packaging That Leaves No Mess
Sourcing chemical packaging that meets UN shipping requirements is a must for the industrial chemical industry. Combining those requirements with a need to transport economically can prove all the more challenging. Pipeline works with customers to invest in the right UN-approved chemical packaging for their products.
Whether you need chemical bottles for retail products or steel drums for hazardous substances, Pipeline can help you find the right chemical packaging solution. Pipeline has developed relationships with hundreds of manufacturers around the globe, giving you access to chemical drums, pails, and other containers. Those capabilities allow us to serve a wide range of businesses, including the following.
Chemical blenders
Paints and coatings manufacturers
Furniture refinishers
Sealant companies
Environmental cleanup and industrial spill organizations
Types of Industrial Chemical Packaging
If you need packaging for industrial chemicals, we have you covered. Our global sourcing network and chemical packaging design capabilities allow us to provide reliable solutions catered to your specific needs.
The endless variations of chemical products are why our packaging materials are just as varied: plastic, resin, fiber, tinplate, and steel. From custom chemical containers to 55-gallon drums, we have the means to get your hazardous materials safely from point A to point B.
Related Chemical Packaging Services
At Pipeline, we strive to be more than just a chemical packaging supplier. We offer several value-added core services that help you reduce resource costs, streamline your business, and ensure that you have the perfect packaging for your chemicals.

From assisting with chemical compatibility to testing packaging for UN compliance, Pipeline takes a proactive approach to provide leak-proof chemical packaging. In addition to dealing with the stresses of UN regulations, our experts work with you to streamline shipments, optimize internal processes, and add as much value as possible with every order through the following core services.
Pipeline Packaging: The Right Packaging Supply Company for Your Industrial Chemicals
When you need high quality, reliable chemical bottles, drums, and other packaging, Pipeline is the perfect supplier for your company. Our goal is to help you invest in reliable packaging for the right price. Our combination of product selection, core services, and customer service mean that we're the right partner for all your industrial chemical packaging requirements.
Contact Pipeline Packaging today to learn more about our packaging options and design capabilities.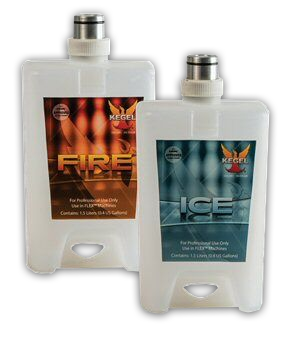 Custom Bottle "Strikes" the Competition for Kegel
Kegel recently developed innovative machinery to clean and condition bowling lanes. The design, however, would require a custom designed bottle to fit in the modified cavity, safely hold the cleaning solutions and still communicate Kegel's brand in the sports industry.
We developed a 1.5 Liter HDPE bottle whose shape would make it the only bottle capable of working with Kegel's machines. The bottle is made in a heavier gram weight to provide greater product protection during travel and use. As a future enhancement, the neck and closure design can easily be modified to make the bottle secure, preventing non-Kegel chemicals from being inserted in their bottles to ensure a continuous revenue flow.
The design is both striking and memorable. It visibly sets a standard well above that of the generic appearance presented by the competitions' products. The final design won the Silver Award at the 2014 National Association of Container Distributors Show. Kegel and Pipeline couldn't be prouder.