Initially, customers may seek out Pipeline Packaging because of our reputation for providing customers with a robust selection of packaging products, competitive pricing and services such as custom design, just-in-time delivery and logistics. However, customers quickly discover that our deep understanding of packaging equipment options, technologies and trends also enables us to provide them with insights and solutions which can solve a wide range of issues.
Whether it's a new customer or a new project with an existing customer, Pipeline Packaging's sales representatives make it a priority to understand each customer's business objectives and production processes. Our sales representatives and engineers may also walk the production floor with a plant manager to observe their processes for filling, labeling, packaging and shipping their products.
Many companies have packaging equipment that is 5 to 10 years old, therefore it's no surprise if the discussion turns to how well their fulfillment process or equipment is — or isn't— functioning. Given their expertise and industry relationships, our sales representatives and engineers can identify equipment manufacturers who can solve a variety of issues, often reducing costs and improving efficiency or safety.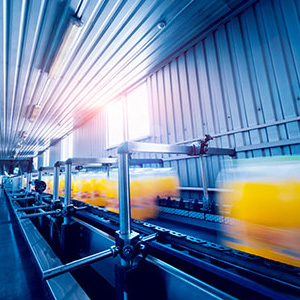 Here are just a few examples demonstrating how our relationships with equipment manufacturers and industry expertise drive success for our customers.
Purchasing assistance: New equipment can be a significant investment. A plant manager might be very interested in better equipment, but face challenges getting approval for a capital expenditure. Recognizing the dilemma, we created a solution where Pipeline Packaging purchases the equipment on behalf of the customer. In return, the customer agrees to pay a bit more per item, often it's a matter of pennies, to gradually pay off the cost of the equipment. This solution has the added benefit of amortization, enabling the customer to write-off the initial cost of the equipment. Anticipating questions from a customer's purchasing department, Pipeline Packaging also provides an escalation and de-escalation schedule to pre-determine when product prices might change due to fluctuating market costs.
A better way: Recently, a customer was paying a third party to label and silk screen 900,000 bottles. Pipeline Packaging recommended an Econoline Q110 Wrap Labeling System manufactured by Quadrel Labeling Systems. This equipment is capable of labeling 8 oz to 128 oz cylindrical containers with a production rate up to 80 containers per minute. This packaging equipment option, purchased through Pipeline Packaging, is saving the customer money and is increasing their efficiency.
Discontinued equipment: An equipment manufacturer notified us that they were discontinuing their straight knurl metal closures. Knowing that one of our customers had equipment that only uses this type of closure, the engineers at Pipeline Packaging got to work to resolve the problem. Leveraging relationships with several equipment manufacturers, our engineers created, calibrated and tested a custom solution which prevented disruption to the customer's production process.
Equipment issues: A customer reached out to Pipeline Packaging with the hope that our engineers could solve issues with their current metal closure equipment. The challenge was that the customer's equipment would sometimes miss inserting the innerseals or improperly thread on the metal closure. Our engineers vetted a variety of packaging equipment options and identified a versatile system which can be cost-effectively upgraded to use multiple types of closures.
More than a supplier — a trusted advisor
At Pipeline Packaging, we take great pride in providing customers with comprehensive packaging equipment options and competitive pricing. But we don't stop there. We value our relationship with each customer and feel a sense of ownership for their success. That's why we continually seek new equipment and solutions which improve the efficiency, profitability and safety of our customers.