Some people say customer service isn't quite what it used to be.
But Pipeline Packaging's sales and service teams are doing their part to ensure customer service remains one of the most important elements of the company's successful, long-lasting business relationships.
Customer service is even a key element in Pipeline's quality policy.
" … We are committed to excellence in service and continual process improvement. We place a high emphasis on integrity, quality, leadership, and efficiency in all that we do."
Clearly, Good People at the Core is more than just a Pipeline Packaging slogan. It's a philosophy where everyone strives for excellence in serving our customers and making sure you get the right packaging products exactly when you need them.
Complete Satisfaction
At Pipeline Packaging, all departments work together toward one common goal — complete customer satisfaction. In particular, the customer service and inside packaging sales departments team up to take care of customers' needs.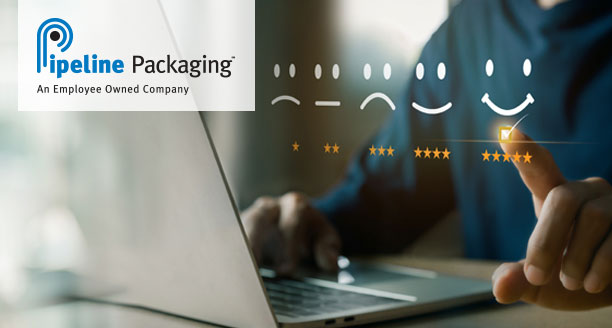 Wendy Moneypenny, Customer Service Manager, and Jon Conkling, Inside Sales Manager, make sure their teams work together closely so no customer needs to slip through the cracks.
Moneypenny says her team of 21 handles everything from incoming orders to processing complaints.
Moneypenny said the customer service team cross-trains so members can support any customer in any region. This ensures there isn't a single point of contact in case someone's unavailable.
"This helps us leverage all our resources and make sure everything is well documented, so everyone understands what's going on," she said. "We use a CRM system to keep everything connected."
The customer service team works closely with the supply chain, operations, and sales teams, and with any additional internal resources needed to keep orders moving along.
"We're the liaison between our internal departments and our customers," she said. "We handle everything from incoming inquiries throughout the lifecycle of an order. We handle communications throughout the process, and if a complaint comes in, we take care of it."
A Little Feedback Goes a Long Way
It's important that customers have an avenue to provide feedback. Pipeline uses Hively, which has three levels of feedback for customers to provide. Customers can even provide a "Wow!" rating for extraordinary service.
"Our customers have an opportunity to provide feedback in every email they receive from us," said Moneypenny. "That feedback is not only supplied to the customer service department but also our executives."
The best part is that it's used to improve Pipeline's processes and procedures.
A Solid Core
There's a good core of people in the customer service department, some of who've been at Pipeline for more than 20 years.
Once employees experience the community and culture at Pipeline Packaging, they love it. The fact the company is an ESOP makes it even better. There's a very low percentage of turnover.
"We have a strong onboarding process and people have an opportunity to learn our business working with the various departments," said Moneypenny. "This provides a solid foundation. People learn quickly that their input is important. We're all owners. And owners' opinions really do matter."
Quick, Correct, and True
Moneypenny said it's important to be responsive, accurate, and honest when dealing with customers.
"If something's going on, we don't shy away from letting our customers know," she said. "And that really goes a long way toward building and maintaining trust."
Pipeline has recently faced three primary challenges — supply chain issues, transportation issues, and volatility in the commodities market.
"There have been pricing fluctuations in the steel and plastic industries, so we're very open in explaining that to customers," she said. "We try to maintain the same pace as the market in terms of fluctuations. We work with suppliers to control costs, and we're constantly looking for opportunities to improve internal processes and increase efficiencies."
Someone to Count On
Moneypenny said reliability is important in a supplier.
"We're here to be our customers' partner," she said. "We want to be one of the top distributors in the country. And we want our customers to know that when they partner with us, they're partnering with a company with integrity and one who has them in mind at every step of the process."
A Little of This … and a Little of That
Much like the customer service department, Pipeline's inside packaging sales department is full of Jacks and Jills of all trades.
From inquiry handling to research to quoting to order fulfillment, inside sales gets involved with orders from start to finish. The team collaborates with members of the inventory, warehouse, supply chain, quality, customer service, and other internal teams, in addition to the customer.
"To develop long-lasting relationships in this business, it's important to really get to know the customer's needs and how to work toward meeting them," said Conkling.
Got a Problem? No Problem
Conkling says the most rewarding part of his job is helping people.
"I enjoy helping our customers solve problems," he said. "I never look at myself as being a salesperson. I always see myself as more of a problem solver."
That's the philosophy Conkling shares with the 11 inside sales reps across the country who report to him.
"Our job is to enhance the customer experience," Conkling said. "Internally, we may not always agree on everything and at times we may have clashes of opinion or different lines of thinking. But in the end, we're all on the same page with the same goal, and that's making sure we satisfy the customer's needs."
Quick and Concise
Conkling talked about how his team provides "real-time information" and helps "manage expectations." Clear communication is one of the most vital elements of customer satisfaction.
"We ask a lot of open-ended questions," he said. "We work to understand what customers are trying to achieve so we can deliver. In business, a lot of things can go wrong. But the more clearly our team communicates, the more likely we are to meet customer expectations."
Sometimes that involves being the bearer of not-so-great news.
"Informing the customer about an order delay or any issues early on is important," he said. "It might not be the easiest conversation, but it goes a long way toward developing trusting and long-lasting relationships."
Let's Talk
Find out how you can develop your own trusting and long-lasting relationship with Pipeline Packaging. Ask your Pipeline Packaging sales or service representative about our dedication to customer satisfaction. Contact us today.