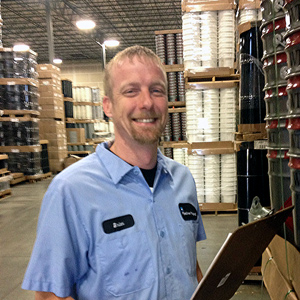 Title
Southwest Regional Warehouse Manager in Dallas
What is your role at Pipeline?
Manage the warehouses in Des Moines, Dallas, Houston and Oyster Creek
When did you start (Month/Year) at Pipeline?
February 2004
Family?
Wife Roxanne, Sons Matthew & Damien, Daughter Shelbi
Pets?
Dogs Luna and Seven; Cats Tyson and Suki
What do you enjoy about living in your state/area?
The weather, food
Hobbies?
Fixing and riding motorcycles, camping, anything outdoors
Pet peeves?
Not doing the speed limit in the fast lane
Who has been the greatest inspiration in your life?
My father
Read any good books?
Not really…
Favorite movie? 
Good Morning Vietnam
Favorite color?
Blue
Favorite food? 
Tacos
What is something that you think no one knows about you?
I rebuilt two motorcycles in the living room of the apartment I lived in at the time
What would you want other people to know about you?
I would drop everything I am doing to help a friend in need
What 1 word best describes you?
Dedicated
What do you enjoy most about working at Pipeline?
The people and watching the company grow