A good bottle design goes a long way for automotive products. Innovative packaging plays an essential part in enhancing shelf presence for oils, fuel enhancers, and other automotive products. Packaging design also plays a direct role in increasing sales, as 72 percent of consumers claim that packaging design influences purchasing decisions.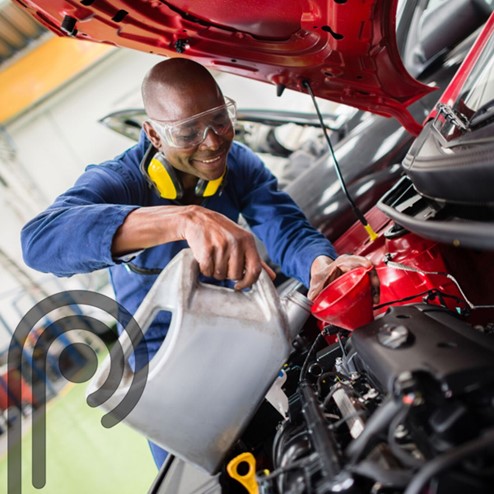 Of course, your business needs the right bottles to inject some new life into your automotive products. There are a couple of ways that you can go about reinvigorating your product's packaging.
Build a custom mold for a totally new automotive bottle design.
Identify a new bottle that's currently in production.
As you may expect, factors such as volume, timing, and budget can dictate which of these options is best for your business. Let's break down the benefits of both routes and how the right packaging supplier can help you achieve the perfect automotive packaging design.
Invest in Custom Mold for Your Automotive Bottles
If you have a big national advertising campaign or really want a new bottle that completely differentiates your packaging, custom molds are a natural solution. Custom molds are an investment that give you the ability to create something completely unique. That level of freedom gives you a lot of potential and flexibility to address the following criteria.
Branding
Performance
Product usage
Changes in the market
Branding
A custom bottle design gives you full control over the shelf appeal of your packaging. Your bottles need to tell your brand's story, so that perfectly shaped container is a critical part of conveying that message. Custom molds allow you to specify the shape, color, volume, and thickness of your bottles instead of settling for something that just isn't quite right for your brand.
Performance
Anytime you have a new combination of plastic bottle and product, there is a chance that those two just won't mesh. Packaging design allows you to take those performance requirements and incorporate them into your desired aesthetic. In turn, you can ensure that your products and packaging are a perfect fit both visually and from a compatibility standpoint.
Usage
Another advantage of designing custom bottles is that you can really cater your bottle to your customers. There are a variety of plastic bottle handles that can make for an easier, more comfortable dispensing experience. For example, an in-mold handle can result in a higher-tech look that's easily pourable. Custom packaging allows you to weigh different circumstances and environments and yield a design that will make life a lot easier for your customers.
Changes in the market
Sometimes shifts in the industry can provide new opportunities in the market. For example, the introduction of capless fuel systems posed problems for fuel additive bottles with more traditional designs. That new system inspired creative companies to custom design bottles with elongated necks that not only made it easier for users, but also created a whole new look for their automotive products.
Source an Existing Bottle Design That Differentiates Your Products
Sometimes, the perfect bottle for your products is already out there. There are manufacturers around the world that may produce a bottle that offers that same combination of unique branding, performance, and usage that your product demands. As such, sourcing an existing bottle can be a more attractive option than custom built molds for a few reasons.
Speed
While custom bottle molds can give you exactly what you want, that process takes time. There are several reasons why a shorter turnaround is necessary – a national launch, production timelines, etc. While this route does require you to find these bottles, it can be a lot quicker and easier than building a new mold.
Cost
Simply put, custom molds are a notable investment. Sourcing can help you secure the packaging that's unique enough for customers without spending the capital required to design, test, and build a completely new mold. In turn, sourcing allows you to avoid that initial cost without sacrificing on your automotive bottle design.
Find the Right Supplier for Automotive Bottles
Whether you need a custom mold or want to find an existing bottle to make your products stand out, it's essential to have the right packaging partner for your business. At Pipeline Packaging, we offer both custom design capabilities and global sourcing to make you're your products stand out from the competition.
When it comes to custom molds, our experts work with you to build a bottle that not only looks great, but also works from a manufacturing and compatibility standpoint. We have partnerships with manufacturers to make sure your design can become a reality, whether you need smaller or larger quantities of bottles.
As for global sourcing, Pipeline enjoys strong relationships with over 400 manufacturers across the globe. These relationships allow us to find different options that are unique enough to differentiate yourself without having to rely on completely custom bottles.
At Pipeline Packaging, our goal is to help you invest in the perfect packaging that matches your design needs. Let us help you with all your automotive packaging needs.