Any time a business adds a new piece of product packaging equipment, there's an expectation that improvement will follow. Pipeline Packaging is certainly no exception.
Since 1989, Pipeline has consistently provided quality industrial and commercial product packaging while increasing customers' access to essential, value-added core services.
So, it should come as no surprise that Pipeline recently installed a new pressure-sensitive labeling machine at its Cleveland Distribution Center.
Pipeline now has a productive, cost-effective way to apply pre-printed adhesive labels for customers.
John Bruce, Pipeline's director of operations, said there were two primary reasons for installing the new labeling machine — to increase productivity and to decrease lead times for customers.
"As Pipeline Packaging keeps growing, we continue to look for new and improved technologies to make our operation more efficient," said Bruce. "We see this new labeling machine as exactly that. It's a nice addition to assist in our packaging, decorating, and labeling core services."
From 2 Ounces to 1 Gallon
Pipeline's new labeling machine can apply labels to round containers ranging in size from slightly less than 2 ounces up to 1 gallon. Labels are automatically applied to metal, plastic, glass, and tinplate bottles and containers.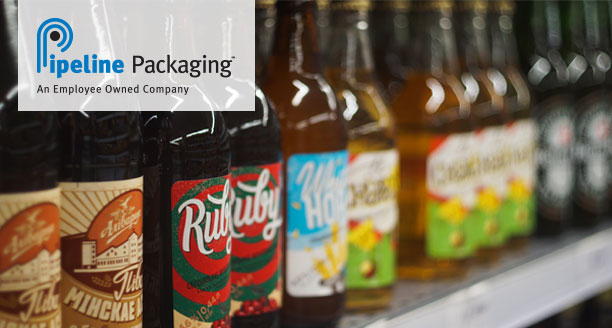 This new piece of product packaging equipment enables Pipeline to provide cost-effective branding, as labels are durable, fit all shapes and sizes, and stand up to all environments. It also provides customers an opportunity to reduce their labor costs by outsourcing labeling assembly and application to Pipeline's Good People at the Core.
Labels applied by the new state-of-the-art conveyor labeling machine use pressure-sensitive adhesive, so they don't need heat, water, or solvents to stick.
According to Jim Frank, a Pipeline engineer who was instrumental in the installation of the new labeling machine, Pipeline is labeling between 16 and 32 bottles per minute, which is about twice as fast as manual labor.
See our new labeling machine in action.
Customers Already Seeing Benefits
According to Pipeline Sales Representative Brian Crevar, one Northeast Ohio-based customer has seen the benefits of Pipeline's new labeling machine firsthand.
With the labeling machine in operation less than three months, Pipeline has been labeling 1-gallon round jugs for this customer on the new machine.
"We were previously hand-labeling these jugs for this particular customer," said Crevar. "Now, it's an automated process, which saves a lot of time and helps us prepare more product so it's ready to ship every week. Then our customer can put its product in the jugs and get it out efficiently to its customers. We're able to build up some floor stock, so our customer never runs out of inventory."
Crevar said Pipeline is always looking to do a little more for its customers.
"This new labeling machine allows us to do that," he said. "The labeler helps us save time, money, and headaches for customers. It's yet another way we help provide custom solutions for our customers."
More to Come
Bruce added the new labeling machine is by no means a final step.
"We're in a position to continue to explore what other machinery and automation can be installed in our core product packaging services area to take Pipeline Packaging to the next level," he said. "We'll continue to keep an eye on what's needed to maintain a well-rounded core services offering for our customers."
Frank agreed.
"We see the addition of a labeling machine as an opportunity to expand our core services for our customers," said Frank. "This is another step forward in terms of the types of core services we can provide for our customers. We see it as a stepping stone."
Reach Out
Ask your Pipeline Packaging representative about our extensive labeling services, including front and back labels and wrap labels. And we can also help with our in-house assembly, kitting, re-packaging and palletization, punch pressing, labeling, and more. Learn more or contact us today.