You already know when you need the perfect combination of industrial and commercial packaging shipping products and a full array of value-added services, Pipeline Packaging is the best way to go.
But did you know our Good People at the Core also take direct coordination of your packaging shipping, making sure your products are delivered without a hitch?
Whether you've got a full truckload (FTL) or a less than truckload (LTL) shipment, Pipeline Packaging has the right connections with freight companies and access to all the right technologies to bring competitive solutions to the table for you.
Sometimes your carrier is your best option. But sometimes you can benefit greatly by leveraging the relationships we have with our preferred shipping providers for an economical and effective solution. Either way, you can just sit back and relax while we handle all the logistical legwork to get your packaging products delivered just when you need them.
Pipeline Packaging takes a hybrid approach to deliver thousands of packaging products to customers across the country each week by utilizing its own fleet of trucks servicing customers in Ohio, Oklahoma, Louisiana, Missouri, and Texas. We also use LTL contracted carriers to ship from these same locations as well as from Atlanta, Cincinnati, Charlotte, Dallas, and Detroit.
Either way, we save customers thousands of dollars and countless headaches in the process.
The Benefits of LTL
If you're wondering what the appeal of LTL shipping is, it's a great solution when shipping small quantities of freight. Rather than bear the cost of an entire truckload, you pay only for the portion of the space your product takes up. LTL also enables delivery of goods as they become available, rather than waiting until there's enough product to fill an entire truckload.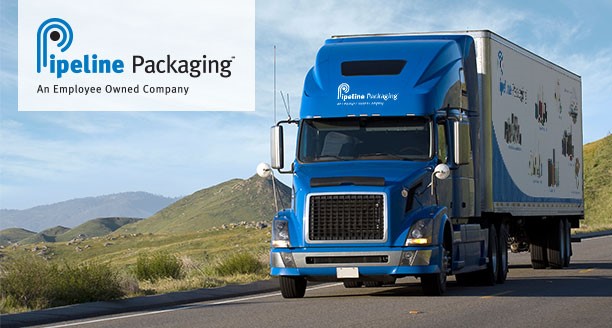 LTL shipping also aids in meeting just-in-time (JIT) delivery requirements. You want to avoid stockouts of essential packaging shipping products and be able to quickly replenish your supplies. Pipeline Packaging's inventory management system enables our team to analyze your product usage and plan accordingly, so you have the right products onsite. We then leverage a network of highly vetted LTL shipping companies to quickly deliver those products straight to you.
Smart Selection
When it comes to packaging shipping, the cost is extremely important. But it's not the only factor Pipeline Packaging examines as we rate prospective carriers. We do take cost into consideration. But we also weigh transit time and three-month performance. We weigh these three factors according to preference and derive a score for the best … and smartest … carrier selection. Here's what we're looking for:
Best Carrier at the Best Price: We designate the right shipments to the right carriers, utilizing carriers where they're at their best.
Consistency and Accountability: We ensure consistency is set at a high level. We use an executive-driven framework around carrier routing and LTL costs, holding process owners accountable.
Shipments Audited in Real Time: Daily recaps reconcile shipments with our shipping system, making sure you have visibility on all movements.
Track and Trace Shipments: Along with initial live audits, we keep tabs on your shipments as they move through the freight network. Any discrepancies that arise for delivery or invoice can be addressed right away.
A Dedicated Extension of Your Team: You have access to a dedicated staff to assist with booking loads and day-to-day operations questions.
Process Improvement Feedback Loop: We take what we find while managing your shipment and give site-specific feedback to ensure optimal operation — addressing inefficiencies and tracking progress.
Nothing But the Best
So, what does all this mean for your packaging shipping? It means you get the best of the best — the best shipping practices, the best reporting, the best transportation carriers and options, the best scheduling procedures, the best logistics ideas, and the best integration delivering the best overall performance.
The Right Kind of Care
Given the cost of warehouse space, it might also make sense to store your inventory in Pipeline's more than 1 million square feet of warehouse space around the country. We can also oversee the logistics of inspections, freight management, deliveries, and more. Also, utilizing advanced software and best-in-class inventory practices, the Pipeline Packaging team will be there to ensure your inventory is organized and cared for right up until it arrives at your location.
This provides the peace of mind that you're going to get the packaging products you need to best take care of your customers.
We're on a Mission
We're not just dedicated to getting you the right packaging products at the right time. Bringing reliable, quick, efficient, and cost-effective shipping options to the table for you is a critical element in our mission.
At a time when shipping headaches abound, we're delighted to be able to provide you with first-rate packaging shipping solutions for your business. Got questions? Reach out to our team of packaging shipping specialists to get all the answers.
Anything You want, We've Got It
If you don't see a service or product you're looking for on our website, there's no need to worry. We have access to thousands of additional SKUs and provide many custom services. Contact us online, call us at 877-242-1880, or reach out to your sales rep directly to learn more about your specific challenge.
You need the distributor with all the right packaging shipping answers, the right engineering and testing services, all the right global suppliers, all the right packaging, all the right locations, and all the right people. You need Pipeline Packaging.