Many experts agree, the supply chain issues that have plagued U.S. companies for years are not yet in our rear-view mirror.
A recent SAP survey found that senior business decision makers think the unprecedented supply chain disruptions we've been dealing with will continue for some time.
More than half of respondents reported their supply chains need much improvement. And one-third feel supply chain challenges will remain until at least the summer of 2023.
Now more than ever, is the right time to partner with Pipeline Packaging as your industrial and commercial packaging supplier.
As a distributor, Pipeline leverages our buying power with more than 300 global packaging suppliers and manufacturers to offer competitive pricing and a breadth of packaging choices.
And, unlike manufacturers, we're able to offer a great deal of flexibility through our core services, which allow you to modify stock packaging/palletizing, enjoy just-in-time delivery, consider custom-packaging design, and more.
Manufacturers simply aren't equipped to be as nimble.
Every industry we serve faces unique challenges when it comes to sourcing packaging, especially in this time of supply chain uncertainty.
Pipeline's wide range of packaging solutions, from every type of container imaginable to complementary support services, offer complete flexibility while removing the headache of managing complex shipping and handling challenges.
We Carry All the Packaging
With no supply chain disruptions, Pipeline Packaging can provide you with bottles, cans, closures, cubitainers, drums, hazmat and safety packaging, jars, pails, sprayers, pumps, totes, and tubs.
We also provide many other packaging options, including drum liners, pail liners, bulk bags, cubic yard boxes, tubes, vials, temperature-control packaging, and anything else you could want, need … or even imagine.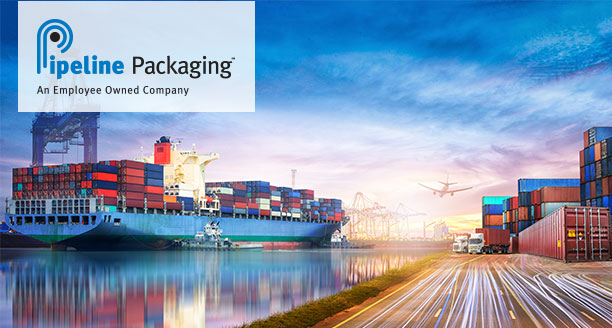 If you don't see a product you're looking for on our website, there's no need to worry. We have access to thousands of additional SKUs. Contact us online, call us at 877-242-1880, or reach out to your sales rep directly.
As a Pipeline customer, you gain exclusive access to a full suite of packaging products and services that can reduce your costs and increase your productivity and reliability.
With a multitude of global packaging suppliers, complex packaging options, and a constantly changing market environment, sourcing product containers is more time consuming and costly than ever.
But leveraging Pipeline's relationships with global packaging manufacturers near and abroad lets you save your resources for other important initiatives.
With Pipeline Packaging, there's no need to worry about potential global supply chain bottlenecks. We have the supplier relationships necessary to get your packaging products delivered straight to you on time and on budget.
We're Everywhere You Want Us to Be
With warehouse locations spanning the U.S. — in Atlanta, Cleveland, Charlotte, Cincinnati, Dallas, Houston, New Orleans, St. Louis, and Tulsa — Pipeline Packaging can quickly and easily deliver the solutions to all your packaging needs.
We have a one- to two-day delivery radius from each of our warehouses to most places in the country.
Consider setting up a just-in-time delivery program in conjunction with one of our warehouses to help reduce your stockouts and ensure an increase in productivity.
Learn more about our locations.
You Expect a Lot … We Deliver
It's more than just having a network of global packaging suppliers. Pipeline strives to exceed all our customers' packaging expectations.
You simply can't afford to trust your packaging needs to just any old manufacturer or distributor. You've got to be able to trust your packaging partner to deliver for you.
Building that trust is key to our brand promise.
The people of Pipeline take a genuine interest in serving you by meeting all your unique packaging needs. We share a common goal — creating solutions that drive your success.
From Pipeline, you expect communication, alignment, diversity of resources, problem solving, good advice, and competitive pricing. And we strive to deliver resourceful, energetic, reliable, friendly, modest, creative, confident, professional, and genuine service.
The result is a relationship with trust … and good people … at the core.
We have an extensive list of satisfied customers who have shared their stories with us. Case study after case study shows our team of packaging specialists has transformed our customers' packaging to stand out from the competition. And we have a trophy case full of industry awards.
You need the distributor with all the right global packaging suppliers, all the right packaging, all the right locations, all the right services, and all the right people. You need Pipeline Packaging.
Contact us today to find out how to get the most from your relationship with the industry's leading industrial and consumer packaging supplier.