In the heat of summer, refreshment is often top of mind. Our decades of expertise as an alcohol packaging company has helped provide a much-needed quench for the thirsts of millions of Americans over the years.
According to recent reports, the alcohol industry is expected to expand at a compound growth rate of up to 10 percent annually through 2028. When a market expands at that rate, so does its need for quality packaging.
Pipeline's worldwide manufacturing network can quickly and economically source the bottles, cans, and other alcohol packaging you need, right when you need it.
Bring Your Alcohol Packaging to Life
Pipeline's design team can help bring your brand vision to life with unique bottle, container, and can packaging concepts and decorating methods. Pairing this with the option to warehouse at any of our locations for just-in-time (JIT) delivery has the potential to pique the interest of anyone in the industry.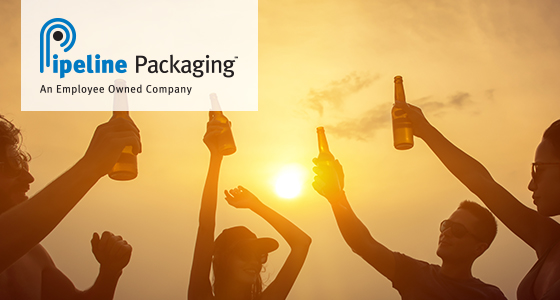 Whether your look is the most traditional wine or a Scotch to scare Scotland, Pipeline Packaging has both the traditional selection and innovation to suit your needs. Glass wine and champagne bottles, tinplate or aluminum can packaging, or a custom design of your own choosing … it's all in the mix.
A Multitude of Options
As an alcohol packaging company, our network of more than 300 global suppliers gives us access to thousands of plastic and glass bottles. Whether you need pharmaceutical glass, food-grade packaging, industrial containers, or alcohol packaging, we can help with your company's needs.
Closures for your containers come in a wide variety of caps, lids, pumps, sprayers, faucets, plugs, cap seals, and more. Metal or plastic are the most common materials in cap construction for packaging.
As one of the nation's largest alcohol packaging companies of bottles, cans, pails, and other beverage packaging, we can provide cost-effective resources to help put your brand in everyone's hands (everyone ages 21 and over, of course, when it comes to packaging).
Yo, Ho, Ho, and a Bottle of Rum … or Gin … or Whiskey
One Pipeline Packaging customer purchases glass bottles for the gin, rum, vodka, and whiskey products it distributes. From 50-ml minis to 375-ml bottles to 750-ml bottles all the way up to 1.75-liter bottles, this customer purchases a wide range of products from Pipeline.
Joe Herndon, a Texas-based Pipeline Packaging sales representative, is an expert at the alcohol packaging company. He's also the point person for this Pipeline customer.
"Since our customer sells high-end spirits, glass products are the norm," said Herndon. "You don't typically see high-end spirits sold in plastic bottles."
Herndon listens closely to this customer's — and all his customers' — needs to be sure Pipeline delivers the right solutions. This helps customers navigate the competitive alcohol industry.
Herndon added that a new initiative is under way right now with this customer that resulted from the long-lasting, trusted partnership and ongoing conversations.
In addition, Herndon mentioned a custom palletization offering for one wine manufacturing customer, and he referred to special stocking and warehousing programs in place for other alcohol customers.
"We're dedicated to helping our customers succeed," he said. "In addition to making sure we provide the right products to fit their needs, we make sure we're offering the right services, too."
Book Smart About Bottles
Herndon said another competitive advantage for Pipeline Packaging is the knowledge the team brings to the table.
"Our sales reps go through the Silgan Plastics' Bottle School, where they learn the ins and outs of bottle making and alcohol packaging," Herndon said. "Graduates learn everything from neck finishes to bottle designs and get to personally watch how the bottles are made."
The five-day training is open to Silgan customers, engineers, sales teams, and employees.
Striking While the Iron's Hot
Herndon said Pipeline Packaging's product and service offerings fit well with the alcohol industry's needs — today and into the future.
"There's tremendous opportunity in alcohol," he said. "We're seeing growth state by state and across the nation. We have several strengths that play very well in this industry."
For that reason, Pipeline is committed to the industry.
"We look forward to finding new ways to enhance our alcohol packaging offerings as the industry continues to expand," said Herndon.
Give Pipeline Packaging a Shot!
Contact us today to learn more about the alcohol packaging company and our options in glass, tinplate, and plastic forms, including bottles, cans, and pails. And don't forget our team's amazing design capabilities.