The health and beauty category is an important one for Pipeline Packaging.
Customers come to us for our healthy and beautiful selection of bottles, jars, and closures synonymous with the category — airless and lotion pumps, cosmetic jars, tubes, and more. And we're here to help consumers see the unique beauty of your products.
But this important category also includes products aimed at impacting the health and wellness of some of our very best friends — our pets. Packaging for pet products is an area of the packaging industry that has experienced tremendous growth.
Just like in other industries, unique designs, quick turnaround times, on-time deliveries, and quality products are key when it comes to packaging for pet products.
And that's what Pipeline Packaging has been able to consistently deliver for one important customer in the Midwest that's a leader in the pet industry. For the Good of Pets … and People this customer manufactures and distributes numerous pet products, including shampoos, ear medications, essential oils, vitamins, and more, all designed to keep pets happy and healthy.
This customer is quite particular when it comes to selecting every ingredient in its products and is just as selective regarding the providers it partners with to purchase packaging products.
The company's promise is to grow for the good of people, pets, and planet through innovative thinking and generous giving. A perfect fit for Pipeline Packaging.
Seven Years of Growth
According to Shelly Bloomfield, a Pipeline Packaging account representative, Pipeline has worked with this customer for seven years.
"We started out with a custom mold designed with our factory partner," said Bloomfield. "The design was a 20 oz. wave-shaped bottle for dog shampoo. The relationship between our companies has gradually expanded."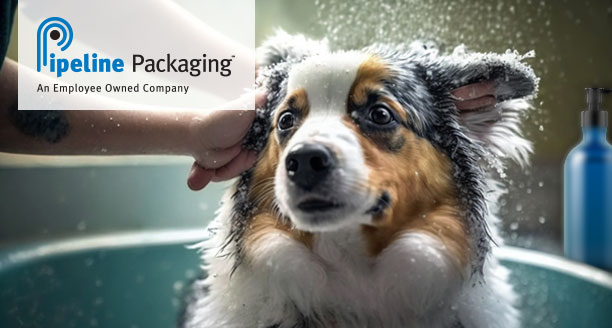 That expansion now has Pipeline supplying seven different bottle designs for the customer's line of pet products.
Brett Blyholder, Pipeline's regional sales manager, says Pipeline is also discussing the opportunity to provide bulk totes for international transport of raw materials and ingredients.
"This would be a rare instance of a single packaging supplier providing bulk chemical storage containers all the way down to a 2 oz. bottle that you find on a retail shelf," he said. "We have the range of capabilities to handle it all."
He added that Pipeline is currently working with this customer to engineer and test a new bottle for an aggressive essential oil product. Testing is under way on option number one of three potential solutions for the customer's challenge.
It's Not Easy Being Key
According to Blyholder, Pipeline Packaging has been identified as a "Key Supplier" by this customer because of its quick turnaround times, ability to stock inventory, on-time delivery performance, and quality.
He said there's daily interaction with this customer as well as a monthly forecasting meeting. There's also a quarterly supplier assessment.
"We just got the results from our first-quarter 2023 supplier assessment," he said. "And we earned a perfect score, with 100 percent on-time delivery and zero defects."
Blyholder said the stocking program and having its own fleet of trucks provides the flexibility for Pipeline to react when deliveries are needed quickly. This is the kind of key provider necessary for delivering high-quality packaging for pet products.
Exceptional Customer Service
"I haven't seen customer service work so well anywhere I've been," she said. "We have so much to offer our customers, from warehousing and logistics to labeling to custom assembly and decorating to engineering and testing to global sourcing. We even offer hazmat products."
The fact that Pipeline is also an ESOP makes a difference.
"I was in the corporate world, then a family business, and now Pipeline," said Bloomfield. "Pipeline has a nice mixture of both environments. It's got a combination of a family and a corporate feeling. This team can really get things done."
"We hear a lot of positive feedback from our customers," said Bloomfield. "Our response time is very quick. We've got the whole package."
Another Health and Beauty Success
Another Pipeline customer faced significant competition in the sunscreen market. As part of a rebranding, this customer wanted a unique, custom design that stood out from other packaging and communicated the qualities of its combined water-repellent sunscreen and insect deterrent.
Pipeline's unique bottle design includes dimpled grips, a practical enhancement considering the product's use near water. Different neck finishes can be used based on market demand. Finally, the brand colors — green and yellow — were incorporated as part of the overall branding.
This success story included blow-molded HDPE, dimpled "grip" side areas, and a design that allowed alternate neck finishes.
Following the release, not only has the customer continued to gain market share, but the bottle also won a National Association of Container Distributors (NACD) design award. We've done this for brands around the world. See how we can do it for yours.
Make a Beautiful Connection
Ask your Pipeline Packaging sales or service representative about our packaging for pet products prowess and our ability to make you shine in the health and beauty category. Contact us today.