SBM Company is an international, family-owned organization that specializes in creating and manufacturing home and garden products for consumers. While the company specializes in advancing plant protection, there was one area that they needed some assistance to help sell their products: quality packaging.
SBM needed a packaging company that could create a custom container design for its new line of Ready-to-Use NATRIA® products under its SBM Life Science division. Fortunately, Pipeline Packaging's in-house design team was able to take SBM's wish list for the new containers and create a custom container made for the company's exact needs.
The Challenges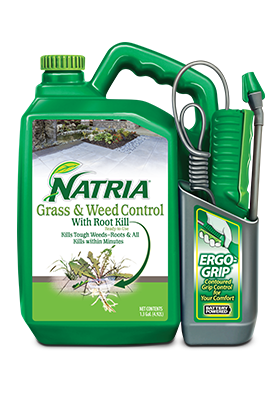 As a newer item, it was crucial that to bring something to the market that had great marketplace appeal on shelves to help the NATRIA line make a great first impression. Of course, attractive packaging design isn't all that goes into packaging. The biggest challenge with the NATRIA project involved balancing a trio of factors to create one comprehensive container that addressed every specific need. In order to meet SBM's expectation, Pipeline's custom packaging design had to meet three separate criteria.
Showcase a nature-friendly approach
NATRIA provides lawn and garden care solutions designed for people who want to control weeds, pests, and diseases in a more responsible, less invasive way. As such, we had to create an aesthetic to match their environmentally friendly product while making consumers aware of the availability of NATRIA's quality natural solution for weed killing.
Focus on ergonomics
As a handheld product, it was very important to SBM that NATRIA's bottles were both comfortable and easy to use. Not only did this mean designing the handholds for the bottle of formula, it also involved finding a way to improve the way consumers would hold and use the sprayers attached to the plastic bottles.
Condense packaging for shelving standards
While NATRIA will end up in people's homes, the bottles need to sit on the shelves at various home and garden retailers first. That meant Pipeline needed to produce a complete packaging solution where NATRIA's products met any existing space standards for one-gallon bottles. With added elements like the sprayer, this meant determining a solution where these necessary extra pieces would fit neatly in the entire package without taking up excess space.
The Solution
While NATRIA's packaging needs required a trio of priorities, Pipeline's design experts worked in conjunction with SBM to deliver a design that addressed each challenge.
When it came time to adopt an environmentally responsible aesthetic, green was a natural choice. We molded the bottle, caps, and sprayers in green to develop a color-coordinated package to help match the environmentally conscious aspect of NATRIA's business. Not only does the new color scheme help the product pop on shelves, it also speaks to the brand's focus on responsible lawn and garden care.
While the green speaks to the nature of the products, specific features on the bottle and sprayer add an extra level of comfort for consumers. The bottle handle was designed with separate fingerholds so that users would squeeze the bottle with all four fingers instead of just one or two, thus decreasing the amount of strain on specific digits. The battery-powered sprayer was also designed with a contoured ergo-grip. Not only did this make the handheld sprayer more comfortable, it also gave users extra control as they use the product.
The final part of the puzzle was to take this green, ergonomic product and condense it into a sleek package that would easily fit on a standard store shelf without any dangling parts. We solved the issue by building a side pocket that's glued into a recess in the bottle. This pocket holds the sprayer in place without any need for shrink wrap or ties. Meanwhile, the combined width of the bottle and pocket did not exceed the size of a standard shelf space at Home Depot, Lowe's, or other retailers. As such, NATRIA had a complete package that store employees could slide onto shelves without accidentally knocking off crucial parts of the product.
The Results
Once all three factors were addressed, Pipeline was able to put together a complete package to help SBM launch its NATRIA brand. Once we got the green light on the design, were able to handle the sourcing and logistics for the bottles, closures, and sprayer. We handle the assembly of the package in our facility and coordinate with SBM's filling operations to provide a steady flow of product so that they can complete their products and get the NATRIA line out to the marketplace.
Are you looking for a distributor that can help you improve your containers through premier packaging design services? Check out our available packaging products online or contact us today to talk to one of our experts today about your specific needs.