The automotive industry is one that's in constant flux. To meet the challenges of the day, automotive packaging solutions providers that are flexible, nimble, and comprehensive are a priceless resource.
Pipeline Packaging can provide the right automotive packaging solutions, ranging from large resin tubs and HDPE drums to small containers.
Since Pipeline works with customers that supply the automotive aftermarket with paints, coatings, resins, finishes, and other products, our most common automotive packaging solutions include jars, cans, and bottles, ranging in size from a quart to a gallon.
The automotive aftermarket presents unique challenges that vary by customer. In some cases, we're sourcing an entire array of packaging products, while in others, we may only supply one product.
At Pipeline, it comes down to having what you need when you need it.
The Right Formulation for You
One automotive aftermarket customer provides paint formulations and coatings to collision repair centers and vehicle refinishers. Pipeline supplies jars and cans meant to hold only enough product for repairing or refinishing one vehicle. This customer relies on Pipeline for product solutions geared toward this precise need.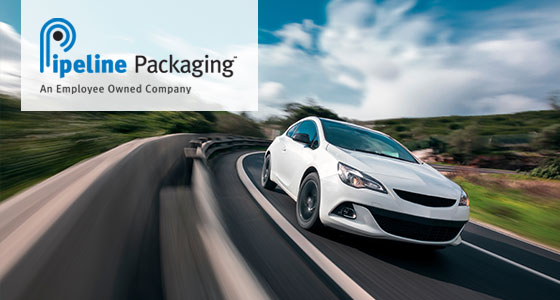 Another customer that manufacturers car wash solutions stores its product in 55-gallon HDPE drums. Besides packaging, this manufacturer also needed help creating a system for measuring chemical usage. Pipeline created a process to replenish drums faster and reduce spills, building operational efficiency and employee safety into this customer's automotive packaging solutions.
Like Layers of an Onion
Based in Michigan, Ray Juhl has been a sales representative at Pipeline Packaging for almost 11 years. His customers include companies specializing in marine finishing products to commercial refrigeration systems to automotive aftermarket products.
"My job is finding what niche I can fill for customers," said Juhl. "One customer may have warehouse constraints, so we'll help by storing products. Another may be looking for higher quality packaging materials, and we'll help find the right fit."
Juhl compares his approach with customers to peeling back an onion.
"Our capabilities allow us to accommodate any situation, but the real trick is uncovering the specific automotive packaging solutions for each customer," he said. "It's like peeling the layers of an onion. I help customers walk through their challenges until we reach the core. From there, we approach it in the best way possible."
Personal Relationships are Key
Since the pandemic, the automotive packaging industry has been facing its fair share of obstacles. Juhl shared how supply chain inconsistency has left many customers without a dependable source for quality packaging. Shifts in the industry have diminished workforces, leaving fewer workers with more responsibilities. This combination means that a reliable automotive packaging solutions provider is more valuable than ever.
The cornerstone of the onion approach, Juhl added, is having close personal relationships with customers.
"At Pipeline Packaging, we look to build long-term partnerships with our customers. We are committed to provide competitive pricing, stocked inventories, prompt shipments, and open communications to meet their current and anticipated needs."
Developing strong relationships is Juhl's favorite part of the job. Some customers even start to feel like family — and he has the stories to prove it.
Recently, Juhl received an urgent call from a customer who learned another supplier was unable to fulfill an order of caps in time. Without the order, the customer likely would have had to shut down operations.
When another automotive packaging solutions provider failed, Pipeline Packaging stepped up.
Juhl talked the customer through the situation, advising an alternative cap option Pipeline had in stock. After the customer agreed to his recommendation, Juhl personally delivered 10,000 caps from Pipeline's warehouse to the customer's doorstep, guaranteeing the order would arrive in time to avoid a shutdown. Now that's customer service at its finest.
This Way, That Way, YOUR Way
Pipeline Packaging is centered around partnerships designed to meet every customer's specific packaging needs.
Starting with our distributor advantage, Pipeline connects customers to more than 300 global suppliers and manufacturers. Customers gain access to an inventory with a breadth of choice at competitive prices. Manufacturers just can't be that nimble.
As valuable as the products themselves is our exceptional customer service. With sales representatives like Ray Juhl, our team is committed to helping customers succeed with quality packaging delivered on time every time (even if it means making a personal delivery).
Pipeline Packaging offers automotive packaging solutions your way. Contact us today to learn more about our inventory, our value-added services, and our good people at the core.