Like many craft breweries across the country, The Brew Kettle made the shift to embrace the can. The popular brewery, taproom, and smokehouse began canning their beers in 2019, joining a notable trend where aluminum cans have quickly grown to become the preferred container of choice for beer.
Early in 2020, cans accounted for 60 percent of total beer sales compared to 32 and 8 percent for bottles and kegs. Those numbers include retail and to-go sales The Brew Kettle's White Rajah, Major Lager, and other brews. Unfortunately, a problem arose for The Brew Kettle and numerous other breweries across the country: the can shortage.
The Challenge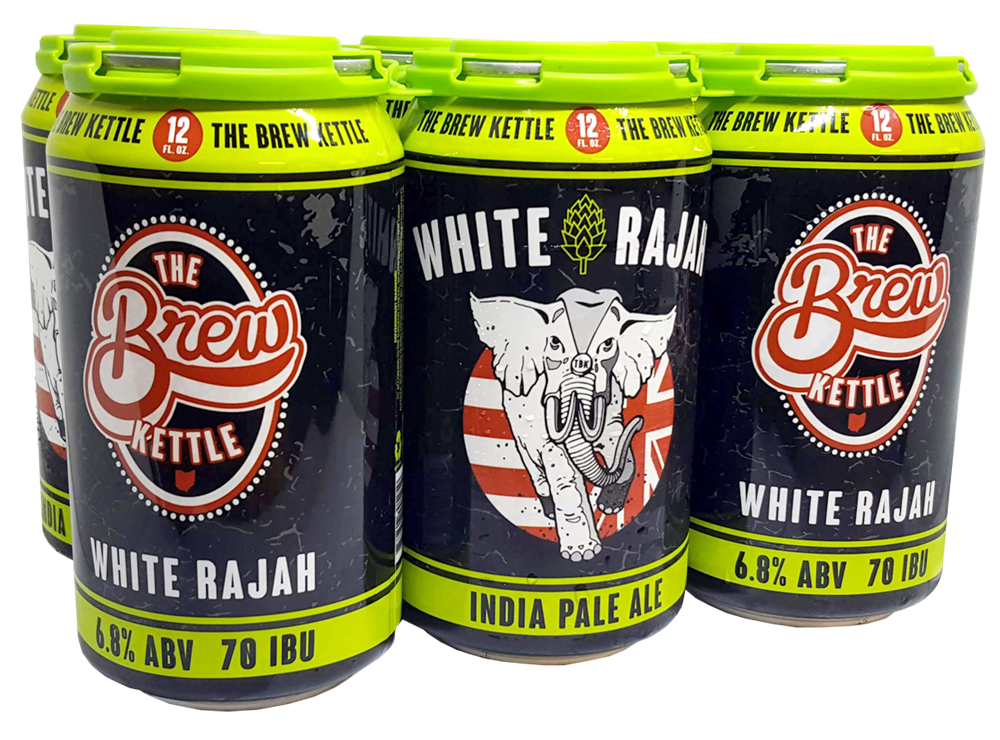 The ongoing can shortage was already an issue early in 2020, and COVID-19 has only intensified the situation. Draft beer sales plummeted when on-site consumption was shut down, forcing brewers to find new packaging to sell draft beer. In addition, more consumers are turning to canned beer to enjoy at home during the pandemic. For The Brew Kettle, these factors made it crucial to have a regular, dependable packaging source for a few different needs.
12 oz. printed cans (White Rajah)
16 oz. printed cans (Major Lager)
Blank cans (miscellaneous styles brewed in smaller amounts)
With the can shortage, breweries are at the mercy of the can manufacturers. Breweries without proper connections could have orders delayed or canceled depending on the relationship and the manufacturer's production process. Fortunately, The Brew Kettle had Pipeline Packaging to help them secure the cans they need for all their products.
The Solution
During a packaging shortage, good relationships are invaluable. Pipeline Packaging built strong relationships with hundreds of manufacturers. Thanks to these relationships, Pipeline Packaging secured a steady source of printed cans for White Rajah and Major Lager as well as blank cans and ships them to Pipeline Packaging.
Once Pipeline Packaging receives these cans, we warehouse and ship them to The Brew Kettle as needed. This arrangement gives The Brew Kettle a steady flow of cans when needed instead of leaving them to fight with manufacturers when supplies are low. In addition, The Brew Kettle only pays for the cans when they're shipped to their facility. This setup provides both financial flexibility and regular access to inventory should The Brew Kettle ever need more cans.
While the printed cans address The Brew Kettle's two most popular lines, the blank cans provide a more cost-effective solution for smaller runs of product. The blank cans provided a more cost-effective solution than printed cans for smaller runs of product. Pipeline Packaging worked with The Brew Kettle to add a sleeving machine to their fill line to apply labels to filled blank cans and sell multiple styles of beer to consumers.
The Results
In a time where breweries are struggling to find containers, Pipeline Packaging was able to offer The Brew Kettle stability. That stability allowed the brewery to continue production without fear. In fact, The Brew Kettle could even capitalize on increased beer sales associated with more consumers taking cans home during the pandemic. With Pipeline Packaging, the Brew Kettle had the relationships in place to succeed during a can shortage.
Are you looking for a packaging distributor that can help you get the containers you need for your products? Check out our available packaging products online or contact us today to talk to one of our experts today about your packaging needs.